Glow in the Dark Skirting – Staircase Nosing
Glow in the Dark Stair Nosings are made from Aluminum plates, coated with Luminescent materials. These luminous strips absorb surrounding light. In the event of a power failure, fire or any emergency which causes sudden darkness, these aluminum plates will glow in the dark immediately.
Practical Use of Glow in the Dark Staircase Nosing
Glow Stair nosing clearly improves building safety during a power failure as that is where everyone rushes to first. With the lifts not working and no lights in the building, Glow in the dark can easily and reliably guide people to safety – in this case it may be the staircase.
With Glow in the Dark Stair nosing installed on each and every step of the staircase, every step of the staircase would be clearly visible in the dark. Glow time is between 6 to 8 hours  after a full charge. Re-chargeable hundreds of times. Lifespan is around 5 years in an indoor environment.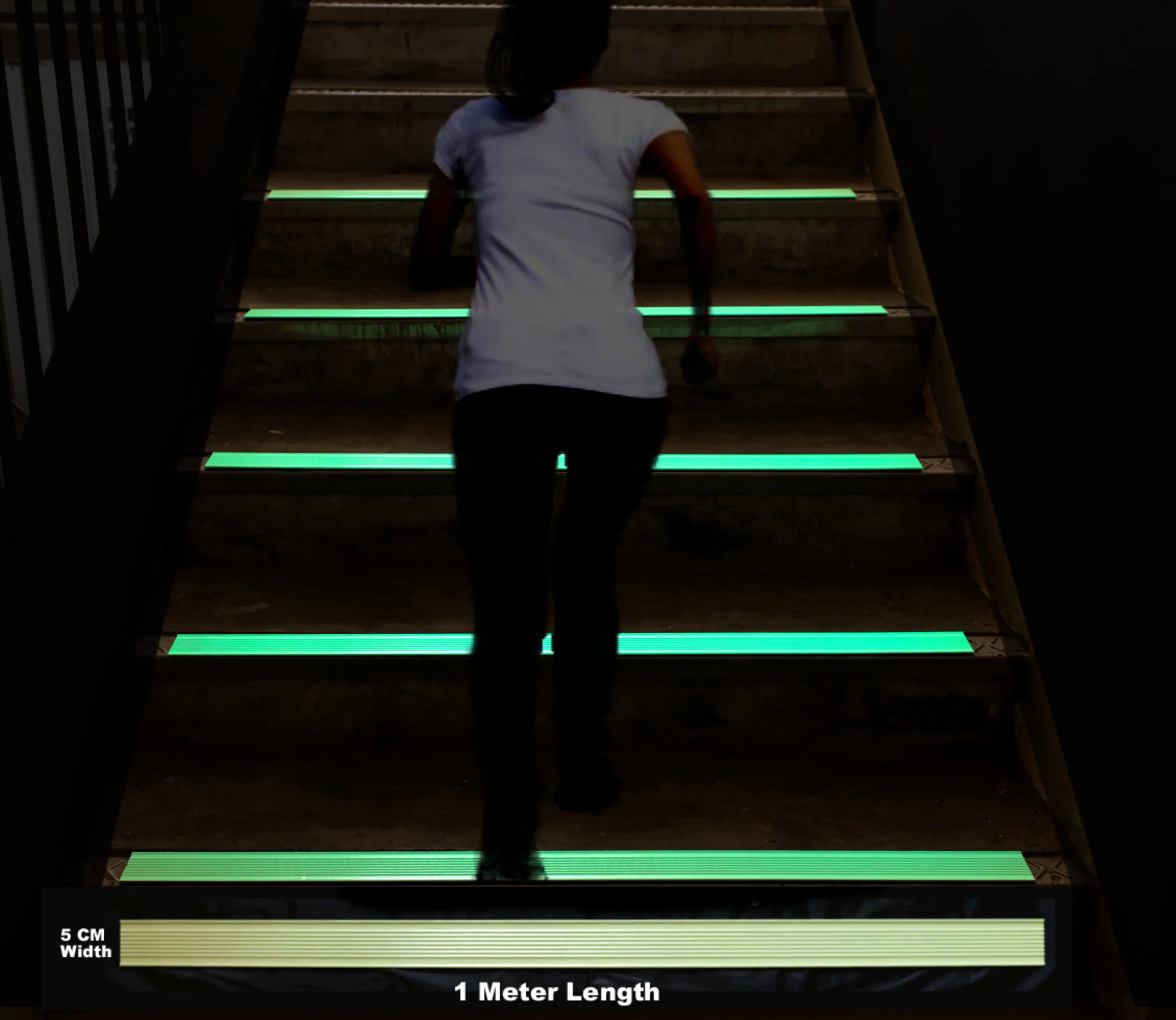 Easy Installayion. Just Glue or rivet. No wiring needed.
Glow in the Dark Staircase Nosing is a perfect emergency lighting system that does not require any external power or maintenance. One of the cheapest and most cost effective solutions to ensure building evacuation safety! in the event the of a power failure or blackout.
Glow Stair Nosing is guaranteed to work in any emergency situation like Fire or Power Failure.
How to Install Glow Staircase Nosing
The back part of these glow strips are flat. Fixing is by means of drilling holes and screwing it in on any flat surface. Can also be glued on with strong adhesives.
This makes it possible to fit these strips on staicases, stairwells, walkways, docks, sidewalks, door posts, pool edges, etc.. Can also be used as route markers or to outline or mark areas which can be clearly visible in the dark.
Mini Glow Lighting Strips
5cm (2″) width by 33cm (13″) length
Comes in packs of 5, 10, 20 and 100 pieces
Long Glow Lighting Strips
5cm (2″) width by 1 meter (39″) length
Comes in packs of 5, 10, 20 and 100 pieces
I have these on the steps and boy do they help in providing clear indication on where the steps actually are.
These plates were installed in a construction site and it is not well lit at night. The glow plates work well when used in  outdoor staircase.  
A perfect investment which paid off when there was a sudden blackout. Whole place was pitch dark except the steps. I then went to purchase the glow stickers and paint to make sure that more areas are visible when there is a sudden blackout.
Total change in my children who used to tumble down the stairs. Now they have fun running up and down the stairs in the dark.
There is a sudden drop of at least a foot in our garage. Parking used to be a 2 man job until we installed these glow plates. Now we have a line of sight like pilots have on the runway.