Glow in the Dark Emergency Energy Saving Lamp
What is Glow in the Dark
Glow in the Dark is the process of absorbing surrounding light, storing it and releasing the stored light when it is dark. In short, it is a product which gives out light automatically when it is dark.
What is PentaGlow?
PentaGlow is a concept of using Glow in the Dark products, to enhance safety in all buildings. It achieves this by providing clear routes one should take in an emergency, to reach the exit safely.
How can PentaGlow be used as Emergency Lamp?
Glow in the Dark products get charged by exposure to surrounding lights. The moment there is sudden darkness, glow products will start to Glow in the Dark.
Now the difference. Emergency lamps need a power source to continually keep an internally battery fully charged. Glow in the Dark products only need surrounding lights to keep it fully charged at all times.
Luminous Glow Absorbing Light
Glow in the Dark material absorbing surrounding light. Works best with UV lights. Also works with Blue or White coloured light sources.
Luminous Glow Releasing Light
Glow in the Dark material releasing stored light energy when it is dark. Glow lasts between 2 to 10 hours. Expose to light and it will glow again.
Due to these characteristics, it can be effectively used as Backup Emergency Lighting, which requires no maintenance or external power source. It just needs surrounding light to power it up.
Problems with Normal Emergency Lighting
Normal emergency lightings are prone to failure if not checked regularly or maintained periodically.
These lightings run on electrical power,
They require regular discharging to maintain battery life,
Installation requires laying of wires
Cannot be installed in hard to reach places.
Benefits of Using Glow in the Dark
Install Anywhere!
No Wiring needed
No Maintenance needed
Lasts for Years!
Does not need batteries or electricity
No more short circuits with outdoor lighting
Guaranteed to work in an Emergency Power Failure or Sudden Blackout
Since DarkNiteGlow runs on Light Energy (meaning it needs to be exposed to light), it should be installed in places where there is always some sort of light. It can be charged with Sunlight, UV Lights, Fluorescent Lights, LED Lights, but not tungsten lights. Lifespan of the product is more than 10 years.
Glow in the Dark products can be used to supplement existing Emergency Lighting but not replace them as regulations still require emergency signages to be lighted.
Glow in the Dark Emergency Products List
Glow in the Dark Paint
Glow in the Dark Paint is available as Water, Oil or Epoxy based products to meet varous requirements.
Staircase Nosing
Slip proof and water resistant aluminum plates with glow in the dark coating. Suitable for use on staircase edges.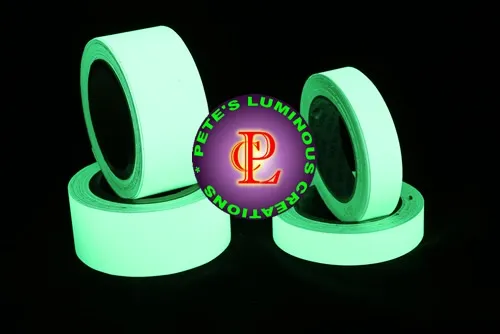 Masking Tape
Glow in the dark tape is made from flexible vinyl material which looks and acts like any ordinary masking tape! But this is no ordinary masking tape because it glows in the dark.
Glow Signages
Glow in the Dark Signages in various materials like sticker, acrylyc, aluminum or canvas. We also can manufacture according to your requirements.
Glow Route Markers
Made from flexible vinyl with adhesive backing. Can be cut and pasted on pathway edges to provide clear indication in the dark
Glow in the Dark Gravel
Glow in the Dark Gravel, is produced from Thermo Plastic Polymer. It can be used as a top layer on existing roads, pavements and highways, for the purpose of making it glow in the dark.
Cable Management
Glow in the Dark Cable Management is made from PVC Plastic material. It is water and weather proof making it suitable for use outdoors and in any weather condition.
Glow in the Dark Snake Coil can be coiled around any round object like pipes, ropes, cables or poles.
Ceramic Wall Tiles
Glow in the Dark Ceramic Wall Tiles coated with our Glow Ceramic Glaze.
Can be used in bathrooms, swimming pools and more.
We have Glow Tiles with no design in stock. We also do custom design printing on tiles.